Graffiti stems from mainly two categories, being Gang and Hip-Hop related. Gang-related Graffiti is nomally territory based, defining the boundries of the gang and as a warning to other gangs. Modern Graffiti on the other hand is often seen as having become intertwined with the Hip-Hop culture as one of the four main elements of the culture, along with master of ceremony, the disc jockey and breakdancing. In essence, the more visual the Graffiti the more fame it creates for the individuals. It is suggested that as much as 90% of all Graffiti is Hip-Hop related. However, modern (twentieth century) Graffiti predates Hip-Hop by almost a decade and has its own culture, complete with its own, unique style and slang.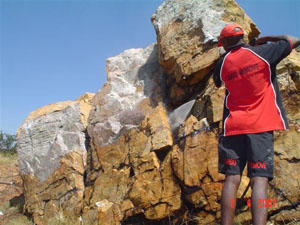 Graffiti also has a reputation as part of a subculture that rebels against authority, although the considerations of the practitioners often diverge and can relate to a wide range of attitudes. It can express a political practice and can form just one tool in an array of resistance techniques. Unfortunately, Graffiti is often offensive and of a racial nature.

A Graffiti vandal starts off his career as a "Toy" (Graffiti term for a new starter). He is usually a youngster and goes around "tagging" anything that gets in his way, from road signs and street poles to walls and Telecom boxes etc. His tag (Graffiti signature) will be very simple and readable.

From there, these "Toys" will join together to form "crew's" (Graffiti gangs). These "crew's" meet at night and tag property, but this time more emphasis is on the placement of their tags. They will concentrate their tags where it is highly visual to the public, often with their "crew" name next to their own tag signature.

These offenders gain pleasure from not being caught for their vandalistic "work". Furthermore, they get a psychological high from seeing their "work" everywhere. This creates "fame" for the individual taggers / gangs and as a result, other offenders follow suit without fear of being detected and to gain respect within the culture. The implications of this are that in a short space of time one could have a number of offenders targeting a specific area.

In S.A. defacing property is a crime and as such, an offender could be facing fines as well as arrest should they be caught. However the seriousness and consequences of being caught does not stop Graffiti from escalating. Therefore it is important to have a zero tolerance approach towards Graffiti and to remove it as soon as it appears. Not doing so communicates that the community or particular organisation is not concerned about their appearance. Furthermore such an acceptance or tolerance of these "acts" could potentially invite additional Graffiti in a short space of time and may even encourage petty crime, which escalates the problem to an even more serious level.

There are various Graffiti abatement programs internationally that recommend as a first line of defence, the initial removal of all Graffiti followed by swift removals of Graffiti once it reappears. This would result in the Graffiti "taggers" not having the same psychological pleasure as before and thus discourage further property vandalism, as a display of their "work" would be short lived. In addition, challenging and eradicating their "work" would restore neighbourhoods and properties to their original Graffiti-free condition.

To summarise, here are the most important facts about Graffiti Removal.
Severe Graffiti problems all start with a single Graffiti tag!
Removing Graffiti tags A.S.A.P. would prevent attracting additional Graffiti in a short space of time, and saves money on removal costs as less products and labour is required when Graffiti is new or fresh.
Having a Zero Tolerance approach towards Graffiti is important, as Graffiti could reduce retail sales, negatively affect area and property values over time and encourage petty crime.
Using incorrect abrasive chemicals in an attempt to remove Graffiti can damage surfaces beyond repair, often leaving large traces of the Graffiti still highly visible.
It is advisable to remove any Graffiti prior to re-painting surfaces, as there is a possibility for the Graffiti "shadow" resurfacing once the new paint has been applied.
Effective and continuous Graffiti removal has proven to be highly successful, as Graffiti "taggers" are discouraged and as such an area looses its appeal to be vandalised.
Many G.R.S. clients have been Graffiti-free since 2004 from a once off Graffiti removal.
Have you been "Tagged"?
Are you a Victim of Graffiti Vandalism?



Since 2004 Graffiti Removal Services has removed 258777 unsightly Graffiti tags from various surfaces.